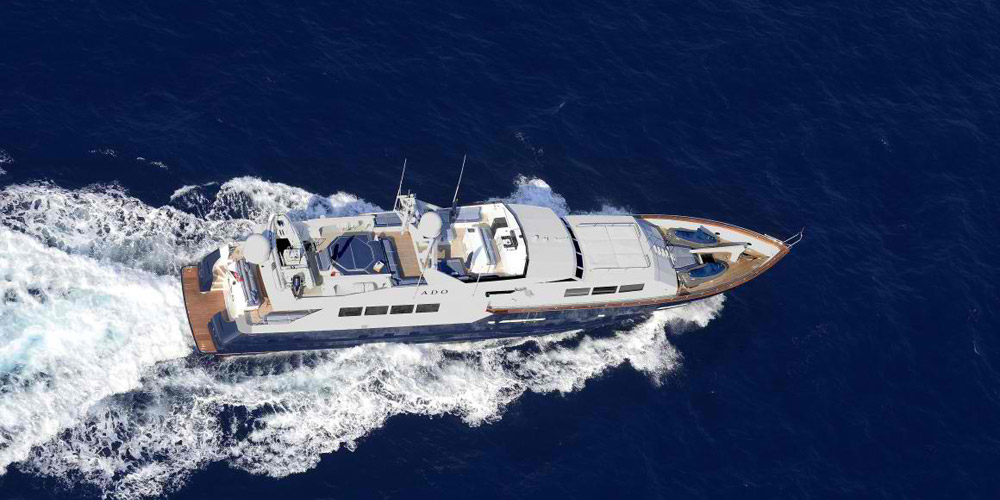 Motor Yacht DOA provides spacious comfort as you cruise the diverse waters of the Andaman Sea and surrounding South East Asia regions. Featuring a 14 person jacuzzi on the top deck with expansive sun loungers and bar she is sure to both entertain and provide sufficient space for the sun worshippers.
"The cruise was spectacular.  We had the best time and several in our group called it the highlight of our vacation.  The sales process was super easy.  The yacht was perfect and the crew were fantastic. Captain Krill made sure everyone had a great time.  The food was delicious and the servers were very attentive and left us wanting for nothing.  It was a perfectly fabulous day. Thanks again for all your help in planning a very successful experience." – Charter Guest.
After many seasons in the Mediterranean, DOA now bases in Phuket, a region which is fast growing to be the next big charter destination. DOA is available for charter in the South East Asia region including areas such as Thailand and Myanmar. With 5 cabins sleeping up to 10 guests she is very flexible to all kinds of charter parties.
SPECIFICATIONS
Rate   $60,000
Length   37m / 121'5″
Beam   6.96m / 22'10"
Draft   1.98m / 6'6″
Built / Refit   1990/2011
Builder   Broward Marine
Speeds   12 knots
Consumptions   TBC
Crew   6
ACCOMMODATION
Guests (Sleeping)   10
Cabins   5
Cabin Configuration: 3 Double, 2 Twin
Number of Beds: 7
Bed Configuration: 1 King, 2 Queen, 4 Single
TENDERS / TOYS
31' sportfish tender
18' inflatable
2 wave runners
2 kayaks
2 windsurfers
wakeboards
skis
an inflatable trampoline and inflatable tow toys.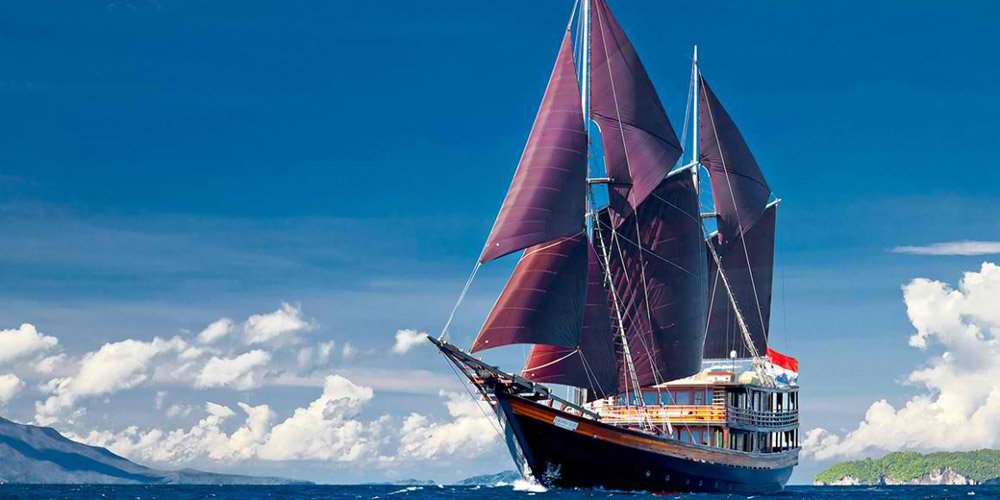 A superyacht with soul, Dunia Baru combines the ability of the famed Konjo shipwrights to manipulate wood, with the latest in industry-leading technology. The result is a charter yacht which helps its guests begin their exploration of some of Asia's most fascinating cultures and spaces as soon as they step aboard.
Dunia Baru provides the perfect platform for adventure and exploring the beautiful and remote waters of Indonesia and Asia in comfort. Completed in 2014 by an American owner in the traditional Indonesian Phinisi design, she offers seaworthiness and stability without compromise on modern conveniences and comfort. Sleeping up to 14 guests in 7 spacious and well appointed cabins she delivers ample space for large groups of friends and families to enjoy.
A sinuously-curved ironwood hull sets the exotic tone, transitioning to an elegant interior replete with hand-carvings and a luxurious finish. Every creature comfort has been attended to within the seven guest cabins, and the crew of 20 are highly-trained to cater to both guests' need for adventure, and to provide the ultimate in relaxing charters.  The most ringing recommendation of Dunia Baru's ability as a charter yacht though, is the number of charter guests who keep coming back to her for more.
Dunia Baru comes complete with a full dive shop including 14 sets of dive gear and a fully qualified dive guide. No matter what your dive certification level, Dunia Baru's liveaboard dive guide will show you the underwater world in safety and confidence.
Dunia Baru's charter rate is ALL-inclusive, enquire for details.
Read the full account of a charter experience on board Dunia Baru here.
REFERENCES
"We just want to let you know that your boat and team is super. Sebastien is a super host!!! Also your chef made this trip for us unforgettable. Everyone is dedicated and real friendly. Congratulations."
– Charter Guest, Myanmar
"Wow, wow, wow! Everyone is totally overwhelmed. It is all absolutely amazing! We are all blown away. We had high expectations but this is something off the scale!!! The boat is exquisite. The team fabulous. Food first class. Lots of super super supers!!! All 100%. Thank you to all of you."
– Charter Guest, Myanmar
"We just got off a 4 night trip on the Dunia Baru and just wanted to let you know that we had a phenomenal time and that Chris & Leah took fantastic care of us. Hopefully we will get a chance to join the boat again soon in the future for a trip to Raja Ampat!
Again, I would just really like to take the chance to commend the staff, and Chris & Leah for the great service."
– Charter Guest, Komodo
"Just to follow up – it was a fantastic trip. The boat managers were really great, boat was beautiful in great condition, diving was amazing, service on the boat impeccable. We would highly recommend Dunia Baru to anyone who is interested."
– Charter Guest, Komodo
"The crew were very good, calm, caring and smiling yet very discrete. Super good! Our dive guide was very knowledgeable of the area, watching carefully at our safety according to our diving experience and a very nice guy! I am thinking of booking again in Raja Ampat."
Charter Guest, Komodo
"I just wanted to touch base and say how much I enjoyed our trip and how much I appreciate the masterpiece Mark has built. The Dunia Baru is simply magnificent. I hope we see you in the fall in Raja Ampat. "
– Charter Guest, Raja Ampat
SPECIFICATIONS
Rate   USD 87,500
Length   51m / 167'4″
Beam   11m / 36'1″
Draft   4.2m / 13'9″
Built / Refit   2014
Builder   Konjo Boat Builders
Speeds   Max: 12 knots Cruise: 10 knots
Consumptions   60 Litres/Hr
Crew   18
ACCOMMODATION
Guests (Sleeping)   14
Cabins   7
Bridge Deck: An impressive 11m / 36' beam allows a spacious, full-beam master suite with king-sized bed and
large windows throughout offering full panoramic views. The light and bright suite has a large
bathroom with oversized shower and a private aft deck with daybed and sofa.
Lower Deck: Six airy and light guest cabins (double bed) with natural daylight filtering through the portholes boast clean lines and an uncluttered style offering relaxed luxury at its best.
TENDERS / TOYS
*BRAND NEW* 4.4m RIB with 100HP Yamaha 4-Stroke Engine
6.8 m Hypalon RIB 225 Yamaha 4 Stroke Engine
4.7 m Hypalon RIB – 70HP Yamaha 4 Stroke Engine
SEA TOYS AND FEATURES
3 Sea Kayaks
x 2 Jet Skis
2 Stand Up Paddle Boards – SUPS
1 Banana Boat
12′ Sunfish
Water Ski
Fishing Rods and Tackle
Beach Chairs and Umbrellas
Barbecue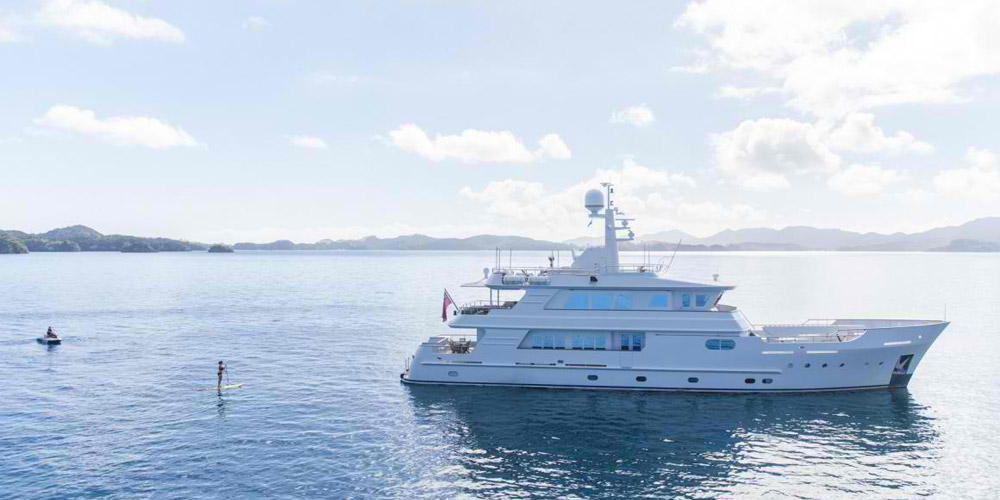 Relentless is perfectly suited to remote cruising areas around the South Pacific region. Referred to as an explorer vessel, she provides very sea-worthy and stable cruising while still having the benefits of a shallow draft. The ability to tuck in to hidden bays for shelter or exploration and cruise longer distances between anchorages provides adventurers with much more flexibility in itinerary.
An added benefit to a charter in Fiji with Relentless, is the on board local guide. Relentless is unique in that her captain and second officer have Fijian heritage, allowing guests to visit areas of Fiji that would otherwise be inaccessible to visiting yachts. Privileged access to islands and villages, experience rich cultural traditions and meet the local children with school visits.
Relentless has had an extensive refit in 2013 which included additions such as the bar on the top deck, all new decking and full repaint. In 2015, Relentless had another minor refit in New Zealand which included a refresh of soft furnishings and new carpets among further technical improvements.
Relentless' key features include a spacious independent top deck with large loungers, a full bar, flat screen outdoor TV and a large jacuzzi, a great spot to soak up the panoramic views and enjoy sunset cocktails. The two high speed jet skis will keep the adrenalin junky's busy and the Innovision 616 explorer is perfect for jetting off to a top dive site or in to shore both in comfort and keeping dry.
REFERENCES
"We had a ball, the boat and crew were terrific. Sally, the kids and I all had a super time, they looked after us a treat! Only problem was that it was too short, next time I'll book a longer charter."
– 2015 Charter Guest, Fiji
"The scuba diving has been truly world class, some of the best I have ever had. The crew is wonderful and the chef is outstanding so we are having a fabulous time."
– 2015 Charter Guest, Fiji
SPECIFICATIONS
Rate   $85,000
Length   34m / 111'7″
Beam   7m / 23'0″
Draft   2.7m / 8'10"
Built / Refit   2006 – 2013/2015
Builder   Kingship Marine
Speeds   Cruise 9 knots Max 12 knots
Crew   7
ACCOMMODATION
Guests (Sleeping)   8
Cabins   4
TENDERS / TOYS
Innovision 616 explorer with Yamaha 225 4 stroke outboard.
19ft guardian boston whaler with Yamaha FC150 4 stroke outboard (128hrs).
4m Zodiac inflatable backup tender with FC 25 4 stroke outboard (4hrs).
2006 Seadoo RXT 215hp 4 stroke Jetski (28hrs).
2010 Seadoo RXT 215hp 4 stroke Jetski (28hrs).
Bauer Junior II Dive compressor.
Dive gear 5 sets scuba pro
Snorkeling equipment
Wet suits
Game fishing equipment
2 Kayaks
BBQ with beach tent and tables
Inflatable lounge
2 wake boards
2 paddle boards
4 Riffe spear guns with two floats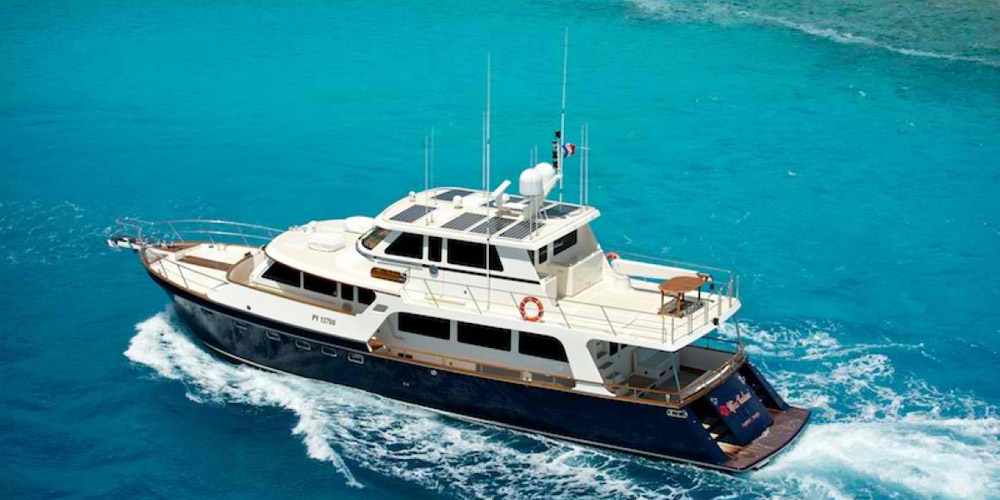 Everything about Miss Kulani has been designed with her guests in mind to cater to your every whim. The private, shaded aft deck leads on to a large swimming platform complete with fresh water shower. While on the sun deck you'll find ample space to soak up the South Pacific's bounteous sunshine.
Retire in the evenings to a state-of-the-art entertainment system in the luxurious surroundings of Miss Kulani's comfortable main salon. Enjoy the casual luxury of savoring a cocktail at the bar over a board game.
Below, a Master state room with an en suite and three guest staterooms await you. All guest rooms are fitted out with amenities including eco-powered air-conditioning.
REFERENCES
"They all were truly terrific hosts, capable, professional, and extremely hospitable." – Charter Guest, 2015
"The chef was great! She cooked the best food that they've tried in the region during the whole period of their vacation" – Charter Broker, 2016
SPECIFICATIONS
Rate   $30,000 USD
Length   22.86m / 75'0″
Beam   5.59m / 18'4″
Draft   1.35m / 4'5″
Built / Refit   2010
Builder   Marlow
Speeds   Cruise: 12kts Max: 27kts
Crew   3
ACCOMMODATION
Guests (Sleeping)   8
Cabins   4
MISS KULANI is better suited for 6 guests, however, they will consider 8 upon request. Please inquire.
Master Stateroom, below-deck forward, to Aft: Walk-around king bed, Cedar lined hanging lockers with auto lighting, vanity with pop-up mirror with light. En-suite bath features sink and shower. 50" TV. Japanese screen shutters in portholes.
Guest Stateroom 1, below-deck forward: Queen size bed, plus 2 built-in Pullmans (for smaller children only). Cedar lined hanging lockers with auto lighting. En-suite bath features sink and step-in shower (this bath has a 2 door access). 18" TV. 2 Skylights.
Guest Stateroom 2, below-deck forward to Port: Twin bed, Cedar lined hanging lockers. 18" TV. En-suite bath features sink and step-in shower. Shares bath with Stateroom #3. Full length mirror.
Guest Stateroom 3, forward to Starboard: Over/Under Twin beds. 18" TV. Shares bath with Stateroom #2.
***This stateroom is better suited for very small children.***
WALK THROUGH
MAIN SALON:
The Holly teak floor plan throughout the entire vessel is open, airy and light. Starboard settee. Built-in hidden sink, fridge, icemaker on Port side. Divider bar on Starboard side with bar stool seating for 3. Entertainment system with surround sound, 50" retractable TV/DVD, iPod docking station. Forward staircase access to galley. Built-in hand railing on ceiling.
GALLEY:
Informal wrap-around settee dining for 8. Table has extra leaf to pull out allowing more space. "Country Kitchen" style galley which offers amazing panoramic views. Staircase to Bridge, along with access to Bow and staircase forward to guest accommodations directly below.
AFT DECK:
Shaded with 2 built in settees. Access to swim platform and which has fresh water shower and rod holders for fishing. Access to Bridge Deck.
BRIDGE DECK:
Guest-friendly Bridge area. 2 Stidd chairs. Informal wrap-around settee with adjustable table. Wine cooler, built-in hidden sink, fridge, icemaker on Port side. Access to bow. 2 lounge chairs.
BOAT DECK/SUN DECK:
Tender storage. Ample sunning area with 2 lounge chairs. Miele electric grill, hidden sink. Solar panels above which makes MISS KULANI an eco-friendly yacht. Solar panels help with the air conditioning.
TENDERS / TOYS
14' semi rigid keel Tender 40 hp Jet Boat
Light fishing gear:
Waterskis
Wakeboard
Towables
Snorkeling gear
Dive Gear Includes:
One K Valve compressor
– one BC small vest for woman
– one BC large vest for man
– 4 dive aluminium bottles
– 2 dive regulators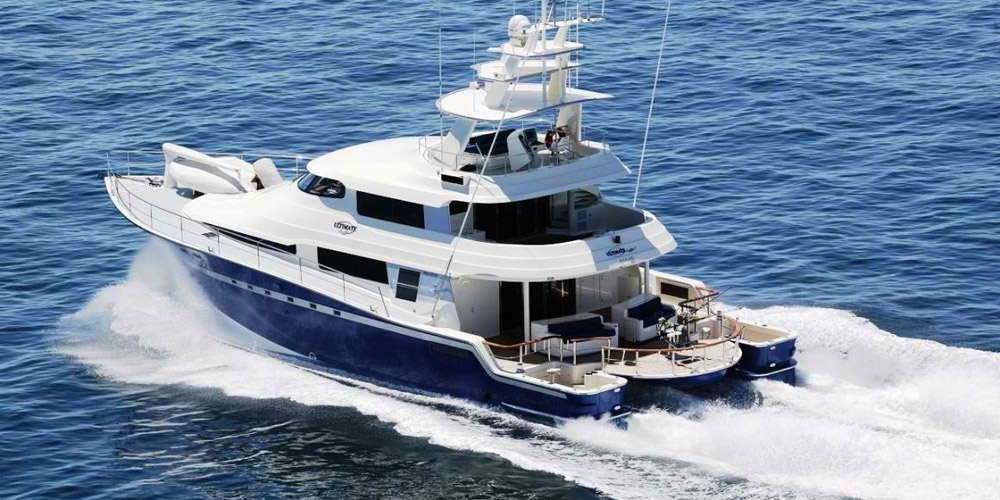 Ultimate Lady is ready for the keenest of keen fisherman to jump on board and have the fishing adventure holiday of a lifetime, while at the same time being prefect for those that simply want to have some fun in the South Pacific sun and relax. With plenty of toys for everyone she's perfect for the whole family.
She is a unique purpose built catamaran with a staggering 10m beam (width) offering large open spaces and comfortable accommodations. Ultimate Lady has a top speed of 32 knots and a range of 5500 nautical miles so she is a great boat for traveling long distances in a fraction of the time.
Now based in French Polynesia year round she has become a local with experienced crew that know the area well. She can charter across French Polynesia including around the famous Bora Bora in the Society Islands and the beautiful Tuamotus.
Ultimate Lady is fitted with a Bose and Sony entertainment system throughout.
Don't waste any more time, book the ultimate vacation on board the ultimate fishing charter yacht – Ultimate Lady!
SPECIFICATIONS
Rate   $49,000
Length   26.7m / 87'7″
Beam   10m / 32'10"
Built / Refit   1998/2009
Speeds   Cruise: 25 kts Max: 30 kts
Crew   5
ACCOMMODATION
Guests (Sleeping)   8
Cabins   4
TENDERS / TOYS
4.5 meter AB tender,
Sea Doo 155 jet ski,
2 x paddle boards,
2 kite surf,
2 x water hammocks,
1 x ski biscuit,
kids and adult water ski's,
Full kit Fishing equipment.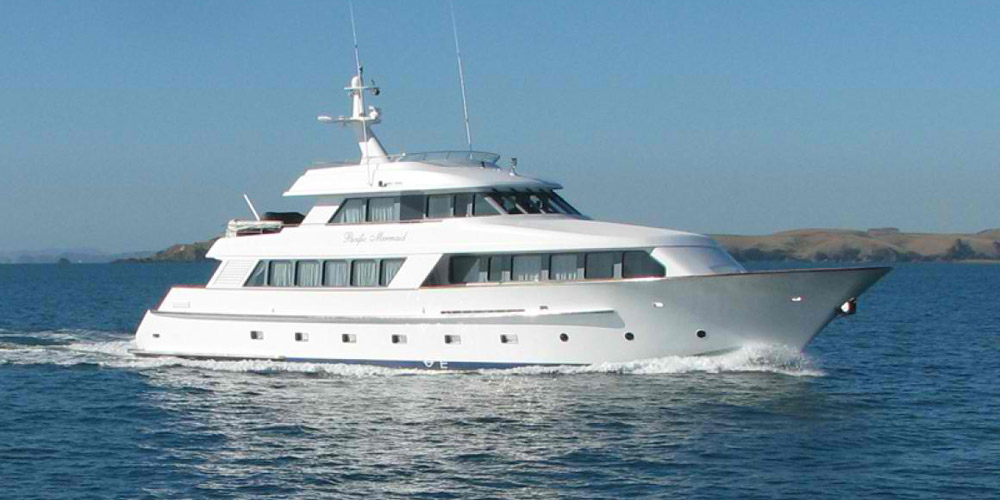 Pacific Mermaid is a luxury super yacht that has long been recognised as Auckland's premier superyacht for charter, hosting the likes of the New Zealand Prime Minister and foreign heads of state and other dignitaries.
Built to order in New Zealand to the highest standard, this yacht is all about fun with family and friends enjoyed in luxury and superb comfort. She bases in Auckland New Zealand and offers charter throughout the Hauraki Gulf and the Bay of Islands.
DAY CHARTERS ONLY
SPECIFICATIONS
Rate   POA
Length   32m / 105'0″
Beam   7.5m / 24'7″
Draft   1.85m / 6'1″
Builder   Winter Yachts
Speeds   Cruise: 9 kts Max: 14 kts
Crew   5
ACCOMMODATION
Guests (Sleeping)   8
Cabins   4
She boasts four luxurious mahogany panelled cabins all with marble clad en-suites and each with own bath.
The King master cabin can be opened up to join with the adjacent twin cabin, turning the adjacent cabin in to a spacious office and lounging area for the already spacious master cabin.
Walk through:
Board Pacific Mermaid from the expansive aft deck and be greeted with freshly refurbished beautiful teak decking that leads you from the swim platform up to the main saloon.
Entering the main saloon the full beam main deck is made apparent by the width providing a spacious feel inside. Her rich mahogany timber interior is lit by her large windows that fill the space with light.
Guests can go straight to their quarters via a private stairwell from the main saloon. Carry on walking through the main saloon a well appointed bar.
Carry on through to the formal dining area which can seat 8-10 guests and has a separate service door straight from the galley for ease of service and minimal disturbance from service staff.
Back from the formal dining area there is a staircase to the upper deck, sun lounge and bridge. This is where most evenings are spent and where the pop up television is, rather than in the main saloon.
The upper deck has no helm station so it is completely reserved for guest privacy. Featuring 360 degree views of the surrounds and plenty of cushioned seating.
TENDERS / TOYS
Sailing dinghy
Kayaks
RIB for excursions, waterskiing, wakeboard, tube.
Snorkelling gear.
Fishing gear.
Piano
TV DVD etc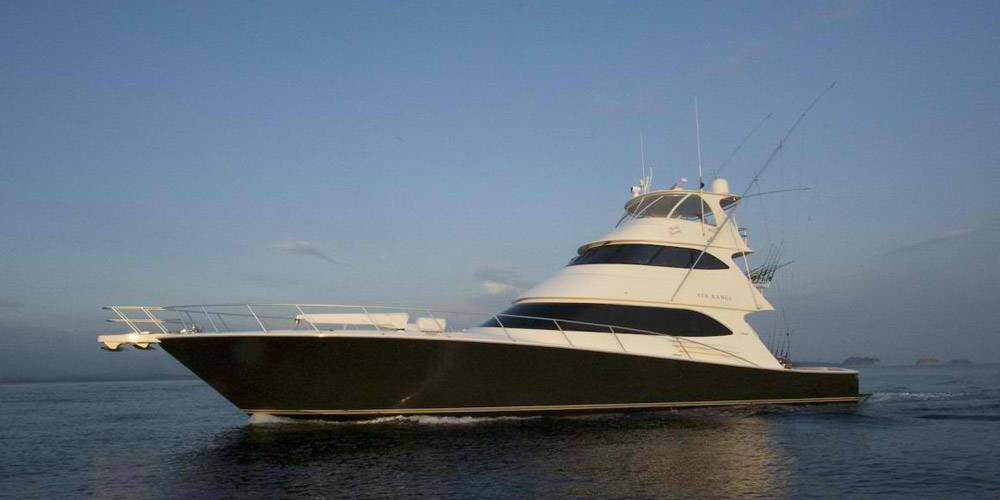 SPECIFICATIONS
Rate   $56,000
Length   27m / 88'7″
Beam   6.7m / 22'0″
Draft   1.7m / 5'7″
Built / Refit   2015
Builder   Viking
Speeds   24 cruise 30 max
Crew   4
ADDITIONAL SPECIFICATIONS
Amenities:
Air conditioning throughout
Marantz stereo system with Apple AirPlay iPod dock
Five LCD TVs with DVDs
SKY TV
Fully equipped galley
Barbecue
Three fridges
Two freezers
Icemaker
Dishwasher
Watermaker
Fishing Skybridge
18-foot tender
Full range of Shimano tackle Two live bait tanks
Four tuna tubes
Three small bait tubes
Release game chair
Hydraulic outriggers
Scotty electric downrigger Lindgren-Pitman deep drop reel Navigation and communication Furuno NAVNet GPS
Sounder Radar Furuno TZ
Touch Furuno Sonar FLIR Thermal Camera
Satellite Phone
ACCOMMODATION
Guests (Sleeping)   6
Cabins   3
Three well appointed double cabins – two convertible to twins.
Sleeping 6 for long term charters and hosts 18 for day trips.
TENDERS / TOYS
18-foot Novurania – 115hp
Paddleboards
Wake skate
Snorkelling gear
Dive compressor
Sea Biscuit
Wake Boards
Surf Boards
Paddle Boards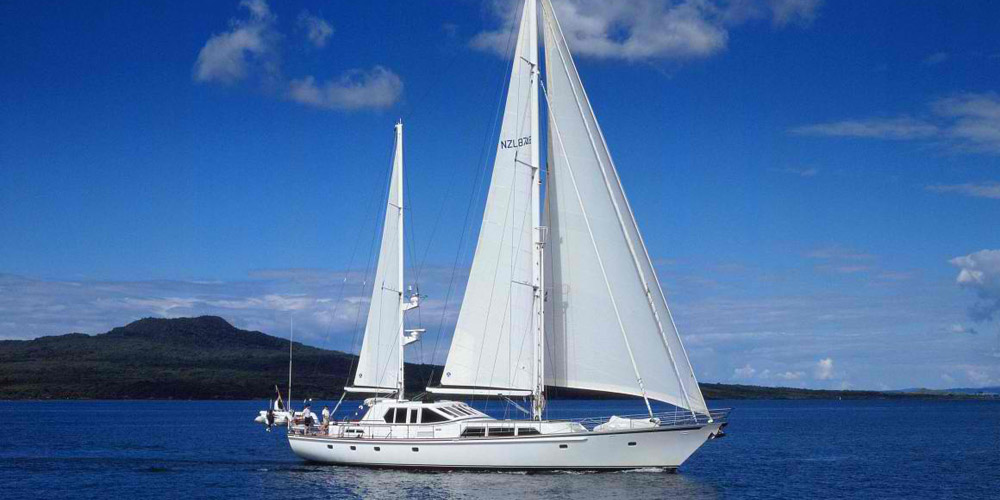 Pacific Eagle is a 103 foot sailing ketch available for relaxed cruising in the South Pacific. Pacific Eagle combines the romance and elegance of a fine sailing yacht with the space and comfort of a motor yacht. The interior has crisp clean lines with a nautical theme.
Pacific Eagle offers accommodation for six guests in its three cabins, each with an ensuite. Guests can choose to dine inside or outside in the sheltered cockpit. The cockpit is equipped with an excellent sound system and offers a great vantage point to enjoy the experience of sailing in comfort and safety.
Pacific Eagle has a fold down transom for easy water access, whether swimming or using the great selection of water toys. The yacht has three highly professional crew members who have an intimate knowledge of the South Pacific.
Pacific Eagle is based in New Zealand's Marlborough Sounds, She is also available to cruise any destination in the South Pacific.
SPECIFICATIONS
Rate   $35,000
Length   31.9m / 104'8″
Beam   7.44m / 24'5″
Draft   2.59m / 8'6″
Built / Refit   1990/2002
Builder   Alloy Yachts
Speeds   10 knots
Consumptions   24Litres/Hr
Crew   3
ACCOMMODATION
Guests (Sleeping)   6
Each Stateroom
Master – Aft Double, Jacuzzi & Shower
TV/DVD/VCR-D
Double – Shower
Twin – Shower
TV/CD
Main/Dining Salon
Ample seating. TV/DVD/VCR
Dining table seats 6
Powder room aft
Bridge
Enclosed seating area (opening doors port, stbd & aft)
Aft Deck
Dining banquette seats 8 (can be fully enclosed)
Boarding & Water access
Stern folds down to become swim platform/ladder
Passerelle
TENDERS / TOYS
Tenders
15ft /5.5m Aquapro/50 hp, 12ft / 4.6m Aquapro/ 25 hp
Toys
2 x 2 man kayaks,
Waterskis,
Snorkel Gear,
Limited fishing gear,
body boards,
assorted inflatables
Scuba gear
4 x sets
6 x tanks
Compressor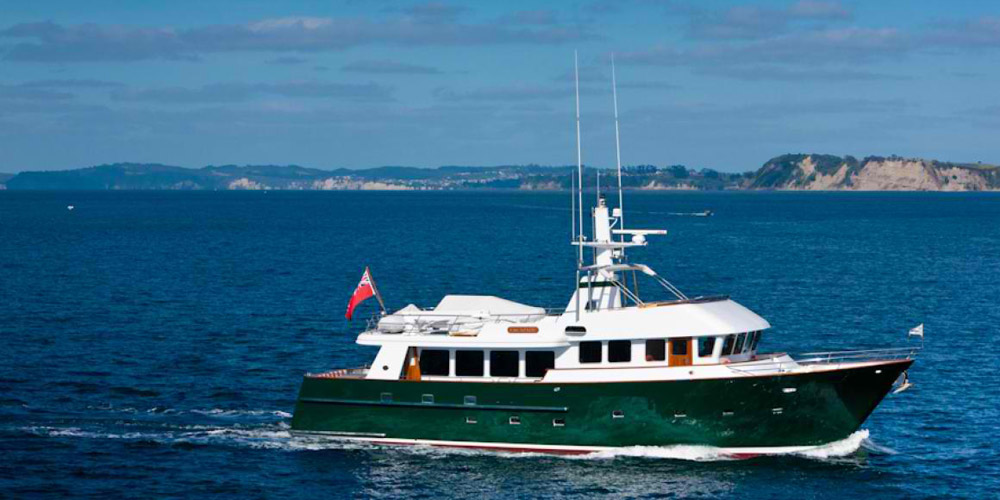 Escapade is a 75′ (22.8m) trawler style motor yacht based in Auckland New Zealand, available for charter all over the South Pacific.
Escapade's 20 feet of beam provides plenty of space, with a luxurious open lounge for formal dining as well as open air dining on the cockpit. Guests can relax and enjoy the stunning views of the Pacific Islands while sunbathing on the fly bridge or use the aft cockpit with its easy water access for kayaking, windsurfing, diving, snorkelling and swimming.
There are three well appointed guest cabins, each with ensuite showers. Be pampered by our professional staff as you cruise the calm blue waters of the Pacific.
Experience a charter tailored to suit your taste on motor yacht Escapade. Escapade is based in New Zealand for the months of November to April and in Fiji from May to October.
SPECIFICATIONS
Rate   $25,000
Length   22.87m / 75'0″
Beam   5.97m / 19'7″
Draft   1.9m / 6'3″
Built / Refit   1999/2011
Builder   Northport Engineering & Burch and Mason
Speeds   Cruise Speed: 10kts Max: 12kts
Crew   3
ACCOMMODATION
Guests (Sleeping)   6
Cabins   3
All cabins have ensuites with showers.
Dining for six inside and outside.
TENDERS / TOYS
– 3.8m tender 40hp
– 2.8m tender 5hp
– 4 kayaks,
– 2 windsurfers
– dive/snorkelling equipment
– dive compressor
– fishing equipment
– water skis
– kneeboard.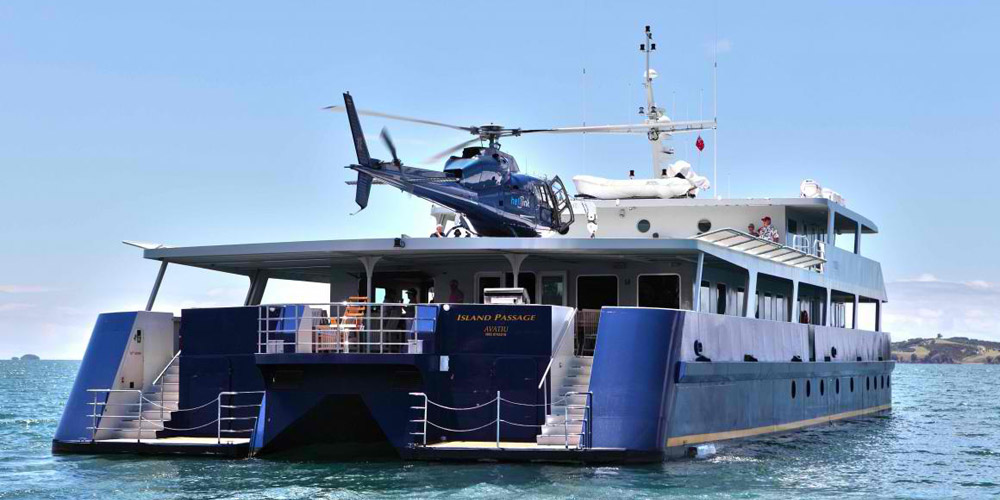 Island Passage is very unique in that she offers accommodation for up to 24 guests in 12 spacious state rooms, twice the amount of the standard maximum of 12. The heli-pad is also very helpful and a popular addition to any charter for transporting guests to and from remote areas and taking scenic trips.
She moves between New Zealand, French Polynesia and Vanuatu offering varying itineraries which can be completely tailored to suit your requirements be it; golf in the Bay of Islands, heli skiing in the south island, exploring the sounds in fiojrdland or experiencing traditional pentecost land diving in Vanuatu! Island Passage offers it all.
SPECIFICATIONS
Rate   $120,000
Length   42m / 137'10"
Beam   12.8m / 42'0″
Draft   2.3m / 7'7″
Built / Refit   2007
Builder   Challenge Marine, Nelson NZ
Speeds   10knots/12knots
Crew   10
ACCOMMODATION
Guests (Sleeping) 24
Cabins 13
Sleeps 24 guests in 13 Guest Rooms.
5 x State rooms
4 x Ocean Suites
2 x Bridge Suites
2 x Solo Suites